IS THERE A PROLINE APP?
Yes! The latest PROLINE App (launched August 2022) gives you more choice and flexibility to play your way. Switch between placing your bets through the app (PROLINE+) or create your betslip to produce a barcode to bring in-store to purchase your PROLINE ticket. All you have to do is toggle from "online" to "in-store" at the top of your app. It's the best of both worlds!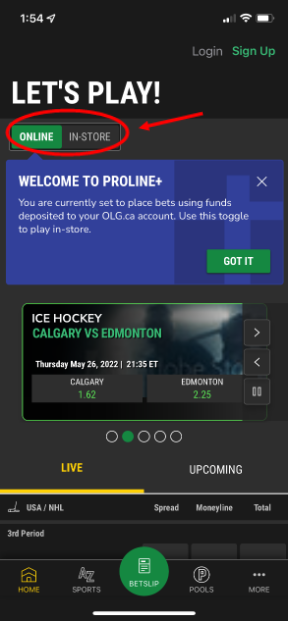 When using "in-store" play to build your bet, make sure to double check your betslip before completing your purchase in-store to confirm if any of your selections need to be adjusted due to the changing dynamic odds.
For more info on the PROLINE app, click here!

WHY DON'T THE ODDS ON THE IN-STORE PROLINE APP MATCH THE PROLINE+ ODDS?
PROLINE+ is a different product offering from the PROLINE product we offer in-store at retail outlets across Ontario. Make sure to check the PROLINE event list in store, the retail PROLINE website and app, as well as online on PROLINE+ as each will offer different types of markets and different odds depending on how you're playing.

The current PROLINE App is a helpful tool to check the event list available at retail and to build a bet slip you can buy in-store.

DO I NEED AN ACCOUNT WITH THE PROLINE APP?
Retail players do not need a new account to play. You can simply, build your betslip to receive a barcode. Scan your barcode to get your tickets at your local retailer. Game on!
However, if you want to bet directly in the app with PROLINE+, an account is required. You can login with your OLG.ca account to play.

I ALREADY HAVE THE PROLINE APP (LAUNCHED IN FEBRUARY 2022), DO I NEED TO DOWNLOAD A NEW APP?
This depends on which device you are using. For current Android users, you will need to download the NEW version!

TO DOWNLOAD
Download the app for Android from the Google Play Store or download the new OLG App for iOS from the App Store to start betting today!
Login to your OLG Account to place your bets in the app. No Account?
Sign up to get an OLG.ca account here!
For iOS users, you simply need to update your existing app!

TO UPDATE
If you are an iOS user who already has the PROLINE app downloaded and auto updates turned on, you will be automatically updated to the new app and can enjoy it right away! Otherwise, simply update to the latest app from the App Store.
If you are an Android user, you don't need to update the app. You can simply download the app here.